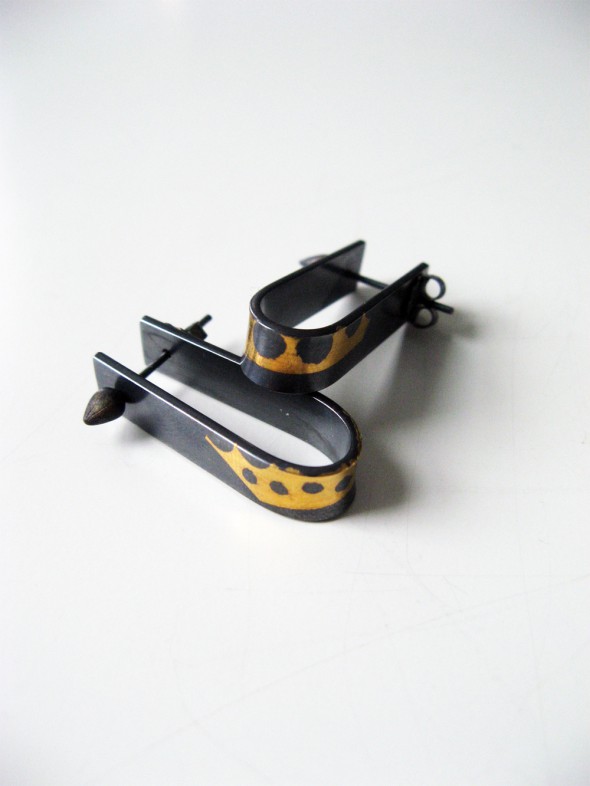 I'd often admired those great honking wooden earrings that seemed they would gauge a big hole in your ears with a wooden stick that you pushed through your earlobe to attach the two parts making it look sculpturally-fantastic and painful all at once. I'd also often wondered how they'd look in metal, being a metal-head myself. Wonder no more.
These babies look so slick and ultra-modern with their hole-y gold and their gunmetal-blue patina you can't wait to stab them through your tender lobes. All sterling silver and 23 karat gold, and the modeled little silver spear-points are a nice touch. I guess I was thinking about javelins along with stabbing and wearable weaponry. I had also been itching to use the gorgeous scraps left from other, more rigidly controlled Keum-bo projects – Thus the hole-y gold, which I love. Since they are irregular, the hoop/posts are reversible and present differently from each angle.
It does take a bit more mindfulness and presence to put these pieces on, one must admit. And for that reason they are not for everyone, but for those who don't mind tweaking their jewels/armor/adornments and like that bitter edge with their morning coffee. But once they're started they're easy to finish fastening and the nicely-finished metal posts must feel so much smoother and sleeker than their wooden counterparts. Maybe: Pistol meets bow-and-arrow?