Salman Rushdie. I had tried to read his novels before, with little-to-no success. They were a jumble, a mishmash, a no-good concatenation of syllables – a literary fury – a grandeur of meaningless and intriguing language – which were completely nonsensical mystery-junk to me at the time. That is, until we reached Calcutta. Or Kolkata, as the city of 15 million should now be called: Land of the Goddess Kali.
We did, in fact, visit a large Kali temple in Kolkata. But that is another story.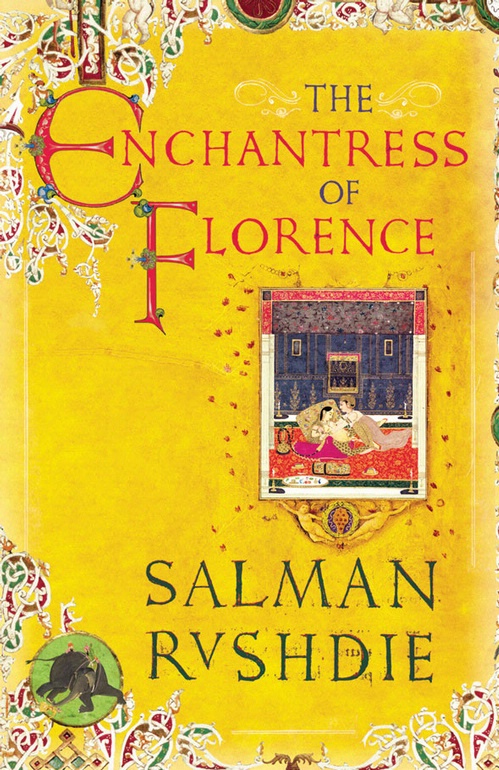 When we reached Kolkata – overland from Nepal – the cacophony of India inundated us from every direction and every dimension like a myriad converging freight trains of the senses. Enveloped within that mind-destroying noise and crush of sensory phenomena I happened upon a copy of The Satanic Verses. It proceeded to grip me by the the throat. Without the experience of being in India, Rushdie might seem nonsensical; When in India, he creates perfectly excellent, well-constructed arguments for the coherence of chaos.
It's lovely to take a hiatus from reading fiction. You begin again, and it's like all your old friends are back with all the latest gossip. The Enchantress was there waiting for me on the shelf in her bright red cover art like a seductive future mistress.
It is a story which includes the Mughal Emperor Akbar the Great, partially set in Fatehpur Sikri. Fantastical – magical realism, they call it. It is Rushdie at his most lyrical in an irresistible story-telling trance that sucks you from one scene to another. Sleep, in this grip of this kind of fiction, is irrelevant.
It is also a story of story-telling.
I feel a special connection with Fatehpur Sikri, and with Akbar. Akbar, Akbar, Akbar, you hear in India. And Jehangir, too. And we visited those red sandstone walls, some falling into ruin, others with giant wasp or hornet's nests in their great entrance gates. A beautiful, beguiling city. Fifteen years in the building, they say, and only occupied for fourteen years thereafter, as a sudden drought drained all the life-sustaining water away and even an emperor is a slave to water.
Here is Fatehabad when we saw it.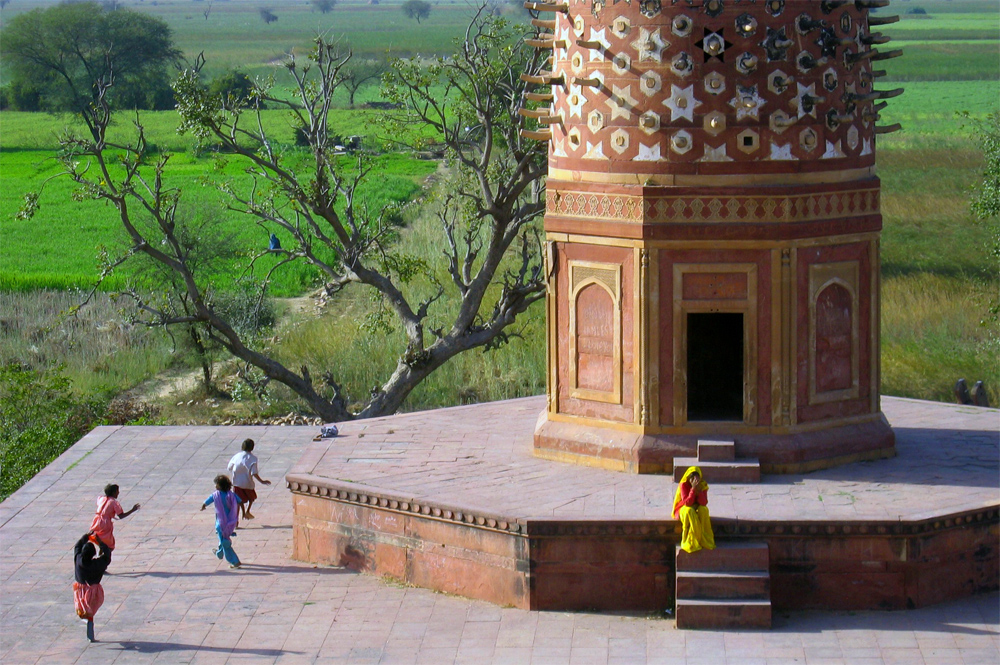 And that's not all. After admiring the eloquent red sandstone architecture, delicate stone pierced screens and silent mosque we emerge from wandering the deserted ancient capital and – bewildered, exit the Buland Darwaza – the gigantic central great gate – and find a flood of sari rainbows and chequed shirts, sassy street girls with heavy eye makeup shoving at us and demanding rupees, performers with fire wheels, jugglers, gaily decorated fake palanquins swaying through the streets, and gangs of youths and adults shouting an aggressive, joyous, celebratory war-like refrain over and over again with raised fists marching, dancing, prancing through the streets. When we ask we were told brusquely,  Muharram.
I still don't know what it means, and it may be hard to explain, but it felt – and was – powerful. We caught up with Muharrem celebrations later in our travels as well, but Fatehpur was where it was most heartfelt and startling. Yet surely fitting.
We were – literally – enchanted.